Welcome
Wellness for body and soul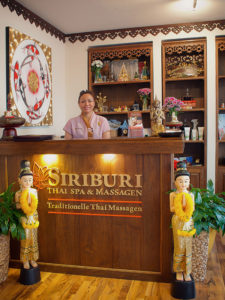 Tensed by the stressful everyday life, do you finally want to put your feet up and relax like on holiday? Then visit the wellness oasis Siriburi Thai Spa & Massages in Homburg. Treat yourself to a time-out and enjoy traditional Thai massages in a pleasant ambience. An extensive spa and massage offer, with oil and hot stones, promises you pure relaxation.
You would like to give a special person a little pleasure? Do you want to give away a bit of holiday feeling? We create gift vouchers for all our Thai Spa and Thai Massage offers. Simply speak to the employees of our wellness oasis in Homburg!
You don't have to travel far to experience the exuberant holiday atmosphere. The relaxation and light-heartedness of exotic holidays can be found on the Eisenbahnstraße in Homburg. Siriburi takes you to a Far Eastern world where you can bring body and soul into harmony.
We are looking forward to your visit!